There are some Psychology theories that will make you sit back and wonder what the heck the theorist was doing when they came up with it. Take Freud's psychosexual developmental brainchild, the "Electra Complex" and it's ensuing "penis envy." I won't go into detail here, but suffice to say that Freud really didn't understand women all too well, and he admitted this later on in his life. Here are a few other psychological head-scratchers:
"Alliumphobia," otherwise known as a fear of garlic.
"Arachibutyrophobia," the fear of peanut butter sticking to the roof of your mouth.
"Physiognomy," or the theory that you can determine a person's personality based on his or her facial features.
And finally "Subliminal Advertising," or the belief that you can implant visual or auditory cues in commercials that will subconsciously manipulate viewers. My personal favorite was The Simpson's satirical plot in "New Kids on the Blecch." Bart joins a boy band and stars in a music video that included the lyric "YVAN EHT NIOJ" (or JOIN THE NAVY, backwards).

When I first started studying and researching human behavior, I came across a strange concept: The idea that people fear success. I could grasp the concept of being afraid to fail – the humiliation, the blow to your self-esteem – but why would anyone not want to be successful? What kind of Olympic athlete wouldn't want a gold medal? Who in their right mind would walk away from a promotion that they had worked so hard for? As odd as it sounds, however, a fear of success is real.
Here's what people who fear success have in common:
They're afraid of how friends, family or colleagues will react to their success.
Here's something to chew on: 57% of fearful people in our success likelihood study are afraid that their accomplishments will cause jealousy and resentment in others; 47% are concerned that their friends and family will feel inferior to them; 53% are worried that people will take advantage of their success (by asking them for money, for instance), while 78% refrain from talking about their success for fear that it will make them appear conceited. Another 45% of our sample said that they would turn down a promotion because they are afraid of being ostracized by their former colleagues.
They're afraid of the attention success will bring. 
Win a gold medal and you'll get promotional deals and maybe even end up on a Wheaties box. Perhaps you'll cut the ribbon at some grand opening, or be asked to do a talk at local schools to teach children how to reach their dreams and stay away from drugs. The point is, when you become successful or accomplish something major, you're going to become the center of attention (of your family, social group, colleagues, the world) – and 57% of the fearful people in our study are terrified of this. 
They're afraid that sustaining their success will be a full-time endeavor.
Career or family? Follow your dream or put it on the shelf for something more "realistic"? 50% of our sample fears success because they think it means that they have to put other aspects of their life on hold. For many, having a successful career and a family just doesn't seem plausible, despite the fact that many parents, especially working moms, are able to do so. It may be a struggle, but juggling different priorities is not impossible. It does, however, require determination and dedication.
They're afraid that they won't be able to handle success.
Why do some athletes retire while they're still in their prime? Or why do some sitcoms end while they're still popular? Because for some people (39% of our sample, in fact), the pressure of being #1 is overwhelming. You can't reach the top of the ladder and then sit back and enjoy your success; you have to keep up the hard work, because being the best implies responsibility. And when you're #1, #2 and #3 will be biting at your ankles, ready to take your place.
They're afraid that they don't deserve success.
33% of our sample suffers from "Impostor Syndrome": The belief that, in spite of their successes, they don't actually merit the acclaim. Many people who have Impostor Syndrome feel like a fake; they believe that their accomplishments are not as amazing as people they think they are. Their biggest fear is that others will finally unmask the truth, leaving them humiliated. Not surprisingly, Impostor Syndrome is linked with low self-esteem, and is actually more common in women.
Here are some tips to deal with a fear of success:
Recognize your fear for what it really is. It is it a fear of rejection? Of being envied? Or is it a fear of the unknown and a desire to stick with familiarity, even if it means not achieving your full potential? The problem with fear (or any negative emotion, for that matter), is that we rarely challenge it or milk it for information. Fear itself can be so debilitating that it takes over our ability to think and reason. However, the only way you can overcome a fear is if you acknowledge it and analyze it. Once you are able to establish why you are afraid to succeed (which might require a little introspection), discuss your fears with a friend you can trust or a life coach. You might discover that your fears are unfounded.
Sidestep toxic people. Some friends will support your endeavors and be your biggest cheerleader. Some will become jealous, or envy your desire to rise above your current circumstances, because it often means that they either need to step up their own game or be left behind. The latter group will see your success as a threat, but more often than not, what it boils down to is a threat to their own ego. They may try to criticize you or guilt-trip you, but understand this: There is nothing you can do to heal their self-image issues, nor is it your responsibility to do so. Don't let toxic people dictate how you live your life or how you feel about yourself. If you need to burn bridges in order to salvage your sense of self, don't be afraid to do so.
I've achieved what I wanted – now what? I understand the physiology behind training year-round, but I can't help but wonder if part of the reason why Olympic athletes train so much is because they fear a moratorium. If you find yourself suffering from "post-achievement depression" realize that learning and growing are a lifelong process. So if you're not the type of person who can sit back and enjoy your success and feel the need to be doing something, consider your next step. Why not coach or teach others? Why not write a book about your experiences? After the 2016 Summer Olympics, people found themselves asking, "What is Usain Bolt going to do with his free time now that he's achieved everything he has aimed for?" Well, rumor has it the fastest man alive wants to play soccer. On a side-note, can you imagine this guy barreling down at you like the Road Runner on Looney Tunes? I mean, how do you even run defense on this guy? Tie his shoelaces? Tackle him?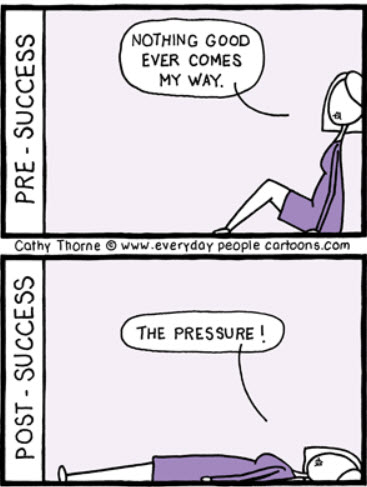 Insightfully yours,
Queen D