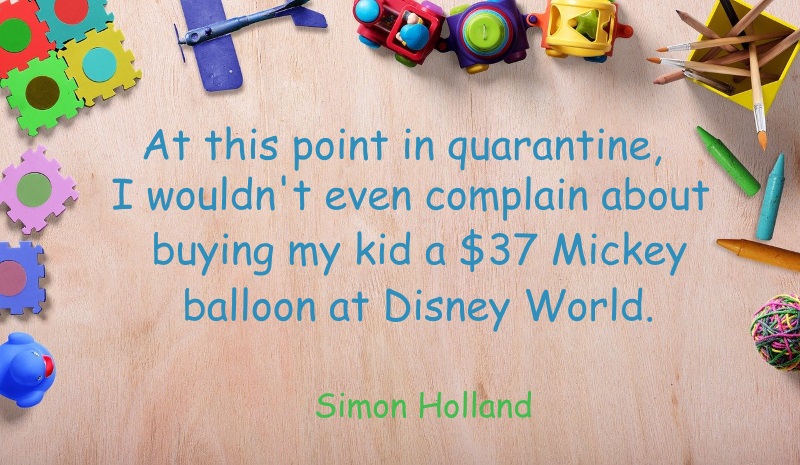 My 4-year-old nephew is a proficient FaceTime user, although he seems to forget that I can see him, even when he's picking his nose. He's been giving me weekly updates about all the things he's learned (his numbers and colors in English, French, and Italian), all the projects his done, including making Easter eggs, bread, and learning how to spell and write my name, along with keeping me apprised of who has won today's pillow fight. He has stopped asking me why I am not coming over, because as his parents explained to him, a lot of people are sick. With that in mind, I would like to send out my kudos to all the parents who are at home right now with their children during the pandemic. I don't wear hats, but if I did, I'd be tipping it to you. I'll just curtsy instead.
After speaking to a number of "please-let-this-pandemic-be-over-soon" parents, here are some tips they wanted to offer kindred spirits who are at their wits end:
Find activities that are fun but promote learning too. There are apps available to teach kids of any age numbers, letters, and languages. Pbskids.org and SesameStreet.org are websites that provide fun, educational, and age-appropriate games.
Don't feel bad about screen time. It can be a handy educational tool, and sometimes, necessary for sanity. That being said, make sure your children are not spending too much time on idle screen activities, such as visiting social media sites or playing video games. Chronic use has been correlated with poor sleep patterns and an increase in obesity.
Try to maintain your child's pre-pandemic routine as much as possible. There's nothing wrong with letting them sleep in a little longer, but don't allow them to develop a habit of going to bed much later than you would normally allow. This will make it a lot harder to routine to a normal routine once schools re-open.
Reading together can be a calming activity. You can also get creative and create a short book together, with your child providing each character's names, and drawings.
Exercise is important. Put together a fun exercise routine with your kids, create an obstacle course around the house, take walks (but maintain a distance from other people), or just put some music on and dance.
Making things together like art and meals is a great way to keep kids occupied and to bond. It's also an opportunity to introduce you children to new fruits and vegetables, which can be really useful if you have a picky eater.
Naps can be important recharging sessions, for both kids and adults.
Organize daily or weekly FaceTime calls (or just regular calls) with friends and family.
Put together a daily schedule of activities with the help of your kids. Make sure to include time for learning, exercise, naps (depending on the age of your children), quiet time for reading or coloring, meals, cleaning, and one activity per day that includes the entire family.
If you're getting the "I'm bored" line, don't try to be a hero. The burden of trying to find a fun activity doesn't have to be entirely on your shoulders. Get your kids involved. "You're bored? Okay, let's write down a list of things we can do. Any ideas?" Once you've come up with a good list, cut them up, put them in a hat, and have each child pick an activity. If you're stuck, here are some suggestions:
Make a pillow fort
Finger-paint
Make puppets and then put on a show
Wear a different Halloween costume every day for a week.
Create a scavenger or treasure hunt
Make a time capsule
Make your own sculpting dough or slime
Try new recipes
Learn about a new animal or country every day
Turn your home into a different place each day or week – outer space, the ocean, a country your child would like to visit, etc.
Chances are that your children are asking a lot of questions about why they are not in school, why they can't visit family and friends, and why they can't go to the park. When talking to young children about the current pandemic, use a frame of reference they can understand. For example, if they ask to go see friends or have them over, explain that a lot of people are sick right now, so it's better to stay home.
Don't forget to check out Queendom's free Pandemic Resilience Test.
Insightfully yours,
Queen D