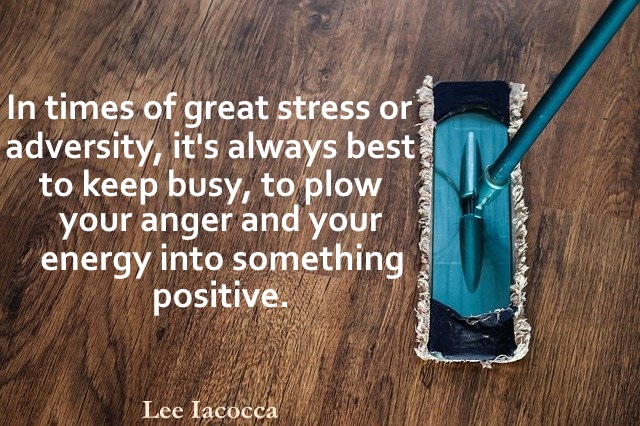 Italy has gone through earthquakes, volcano eruptions, wars, and plagues, and its latest crisis is nothing short of a tragedy. But Italians are a stout and resolute people. They were blind-sided by the Coronavirus outbreak, but they learned quickly, and adapted as best they could. The videos of people singing and dancing on their balcony is proof that we can all make good out of a bad situation.
So what can you do to keep yourself busy if you don't have a balcony to sing from? (I have one, but I was strongly discouraged from singing by some rather worried friends…not out of concern for me, but for my neighbors). Well, you can take the standard route and binge-watch all your favorite TV shows or play board games, or you can challenge yourself a little more. Here are some self-isolation activities that keep your mind and/or body busy:
Start your Spring cleaning. Wash your windows, scrub down your walls, clean your stove and pantry, and pull the fridge out from the wall, because I'm pretty sure there's some funky stuff that has fallen underneath there. And if you have any tips for scrubbing out coffee stains on kitchen tiles, let me know…I spilled coffee underneath my fridge.
Get organized. Tidy up your junk drawer or garage, or clean out your closet. Pack up the stuff that you don't wear/use anymore, and donate it to a charity once things are up and running again.
Pick up a new hobby or project. Try painting, crafts, calligraphy, knitting, or woodwork. Or learn to meditate – it takes practice, but you've got lots of time for it now! You can also attempt a new recipe, or try your hand at creative writing, poetry, or journaling.
Read (or re-read) the classics. Pride and Prejudice by Jane Austen, To Kill a Mockingbird, by Harper Lee, Brave New World by Aldous Huxley, Jane Eyre, by Charlotte Brontë, The Lion, the Witch, and the Wardrobe, by C.S. Lewis, and Bram Stoker's Dracula, just to name a few.
Keep yourself safe and keep yourself busy, my friends.
Check out the free Pandemic Resilience Test on Queendom.
Insightfully yours,
Queen D